It's 4 weeks until we do our Relaying at the Rugby Club on 15 and 16 July and we want to encourage everyone to come along and join us as we show our support for anyone in Kilkenny who has been affected by cancer.
So we've come up with this great idea to encourage you to get a bit more active whilst joining in the fun.
JOIN OUR COUCH TO RELAY CHALLENGE!
We have a track at Relay For Life and we would love you to come and use it for your own benefit.
So how does it work? 
Step 1: Set your own goal.
Use distance, number of steps or time to set your goal.  And here's the thing – this is completely and totally up to you! The key is to go off your current level of activity and work out where you want to be.  So for example, you might be clocking up around 5000 steps per day and want to get to 10,000. Or you might be currently able to walk 2 miles easily but want to work up to 5. Or you might be able to run for 45 minutes and want to build up to 1 hour. Whatever your goal is, it's your goal no one else needs to know it, unless you want to share it, and no one will judge you.
Step 2: Work out your training programme.
You have 4 weeks to get going, so think about the number of sessions you want to complete per week during the next month. Think about how you are going to progress your sessions so for example, using the scenarios above the training schedule might look like this: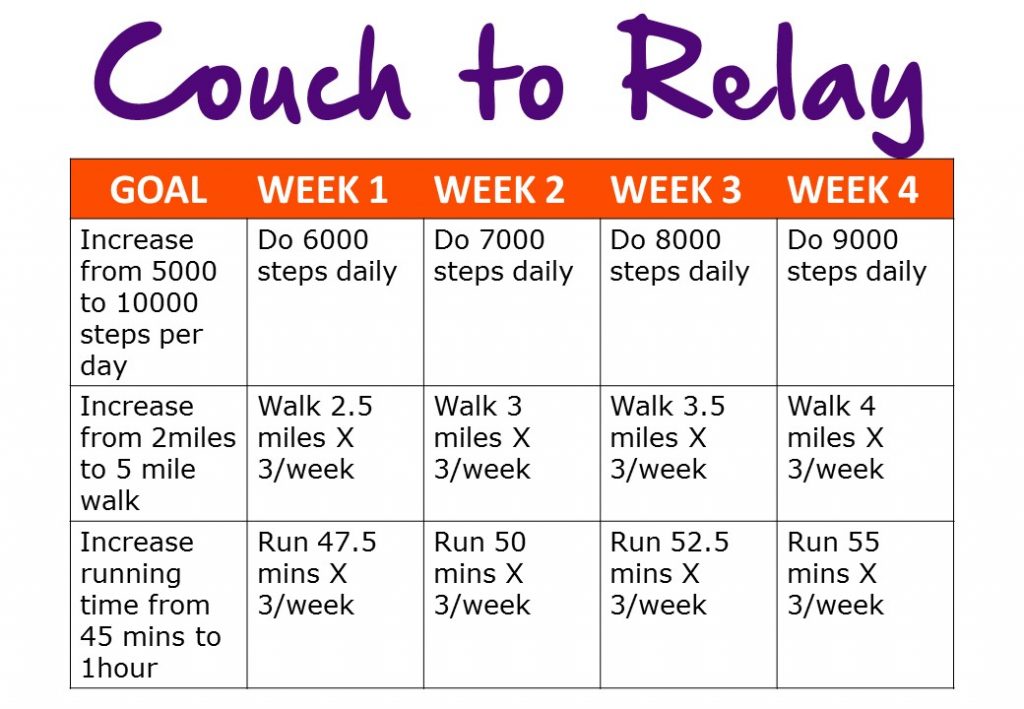 You can use this blank training planner to help you
 Step 3: Follow your training programme.
Use a fitness/health app on your mobile phone (such as Google FIT, RunKeeper, Samsung Health etc), an activity tracker or pedometer or a stop watch so you can keep track of your progress. Use the blank training planner and as you complete your training sessions give them a big tick!
Step 4: Come to Relay For Life on the weekend of 15/16 July and complete your challenge.
We will have our track marked out on the rugby pitch.  We'll work out what distance one complete lap of the track is and have this on a BIG notice at the Relay.  From that you can work out how many laps you need to complete to smash your goal!
Step 5: Smash your goal! 
Step 6: Go over to the committee tent and tell them you have completed your Couch to Relay challenge and we'll give you a certificate!
FOR SOME BONUS EXTRA FEELGOOD FACTOR WHY NOT RAISE SOME MONEY FOR THE IRISH CANCER SOCIETY WHILE YOU COMPLETE YOUR CHALLENGE AND HELP TO PREVENT, TREAT AND BEAT CANCER
You could set up a just giving online donation page for yourself (go to justgiving.com once you have logged in choose Irish Cancer Society as your charity and 'Relay For Life Kilkenny' for your event) and share the heck out of it with all your online friends (we'll also share it for you on our Facebook page – just let us know).
Or, if you are more of a traditional fundraiser, you can collect a good old fashioned sponsorship card and bring it to all your friends and family and get them to sponsor you and give you the cash which you can then lodge into the Relay For Life Kilkenny bank account.  Contact info@relayforlifekilkenny.com to organise this.
We wish you the very best of luck with your challenge, and remember that by being more active you are improving your health and reducing your risk of cancer and other diseases.